---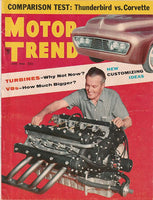 June 1956 Motor Trend Magazine
EX Condition – Magazine is complete with some minor cover wear and creasing. The spine shows some subtle use wear and the pages are in excellent condition and slightly yellowed mostly around the edges due to age.
This issue includes: Will the V-8 Outlive the Turbine?; Plymouth Fury Drivescription; The difference between classic and special interest cars; 1956 Buick Special Century Road Test; Martin and Morris Srabian's 1954 Ford pickup feature; Debut at Sebring; 1956 Thunderbird and Corvette Road Tests; The return of the Bugatti; Renaut Dauphine Drivescription; plus more great Motor Trend magazine editorial.
An excellent vintage issue that will make a nice addition to most any collection.