---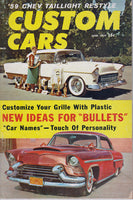 June 1959 Custom Cars Magazine
EX+ Condition: This pocket-size magazine is complete with very minor cover wear and creasing. The spine shows only subtle use wear and the pages are just slightly yellowed mostly around the edges due to age.
This issue Includes: Sacramento Autorama coverage; Sharon Warner's 195 Chevy custom; Beautifying with Bullets; Von Hunter's 1957 Plymouth custom; Displaying originality and humor with car names; Styling Studio with Dick Collier; Bob Sanchez's 1954 Mercury; Grille Customizing with plastics; Walt Medcalf's 1948 Chevy custom; Custom dual taillights for the 1957 Ford; Chuck O' Malley's 1956 Dodge custom; New look in headlights; Jerry Holak's 1958 Ford Convertible; Walt Christian's 1953 Ford Convertible; Plus more excellent editorial, tech, and features.
A great vintage pocket-size magazine to add to your collection.