---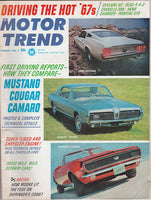 October 1966 Motor Trend Magazine
VG+ - EX- Condition – Magazine is complete with some mild cover wear and creasing. The spine shows some average use wear and the pages are just slightly yellowed mostly around the edges due to age.
This Issue includes: A look at the Green Hornet TV Car; Detroit Spotlight; Trend-Setting Trio: Camaro, Cougar, Mustang Road Test; Chrysler Engineering for 1967; 1967 Charger Review; 1967 Imperial Review; Driving the Hot 1967's: Pontiac GTO, Pontiac Grand Prix, Pontiac 428 2+2, Buick Gran Sport 400, Buick Riviera, Buick Electra 225, Olds 4-4-2, Cutlass Supreme, Toronado, Olds 88, Chevelle SS 396, Corvette Sting Ray, Chevrolet SS 427, Chevy II SS 327, Bud Moore hops up Dieringer's Comet; A look at the Wild, Legendary Getaway cars; Ray and Allen Turner's custom El Cormino; plus more great Motor Trend magazine editorial.
An excellent issue that will make a nice addition to your collection.