---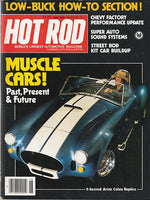 June 1980 Hot Rod Magazine
EX Condition – Magazine is complete with very minor cover wear and creasing. The spine shows only subtle use wear and the pages are in excellent condition and only slightly yellowed around the edges from age.
This issue includes: Roddin' at Random; The Arntz Cobra; The story behind the Cobra; Mail Order Street Rod; Low-Buck How-To's; A look at the '62 Muscle Cars; Tube Bending and Flairing; Dave Williams' '32 Touring; Jimmie Stephens' '33 Ford feature; New factory performance parts from Chevrolet; Future Muscle by Harry Bradley; The latest in torque converters; Keith Pasqunizo's Chrysler-Powered Datsun pickup; Tom Prufer's '34 Ford three-window coupe feature; The latest car audio; Suzuki GS 1100 test and feature; plus more features, vintage photos, and editorial.
A great issue from the 80s.