---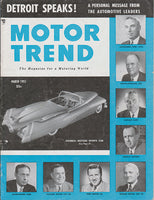 March 1951 Motor Trend Magazine
VG + Condition – Magazine is complete with some minor cover wear and creasing. The spine shows some fairly heavy use wear and the pages are slightly yellowed mostly around the edges due to age.
This Issue includes: Detroit Speaks; Progress of the Automotive World – 1920-1951; The Cannonball Sports Car; Motor Trials – Hudson Hornet; Sports Trial – Crosley Super Sports; A look at GM's Saber Concept Car; Care and Maintenance of Pedestrians; Spotlight on Detroit; The Sporting Scene; Tendance Continentale; Classic Comments; plus more great Motor Trend magazine editorial.
Not in the best condition but an excellent vintage issue that will make a nice addition to your collection.