---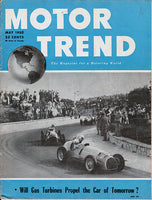 May 1950 Motor Trend Magazine
VG Condition – Magazine is complete with some minor cover wear and creasing. The spine shows some heavy use wear and the pages are in great shape and are slightly yellowed mostly around the edges due to age.
This Issue includes: A look at gas turbines; Motor Trials – 1950 Mercury; Custom Chevys – Restyled for Improved Appearance; Le Simca Huit; German Sports Car Racing; The ¾ Midget plus cutaway artwork; Preview to the British Automobile and Motorcycle Show from the Grand Central Palace; New Accessories from the Pacific Automotive Show in San Francisco; Colonel Alexis de Sakhnoffsky design of a Buick in Paris; Trend in Trials; Cars of Character – Rolls Royce; Tendence Continente; A hybrid MG; plus more great vintage Motor Trend magazine editorial.
Not in the best condition with the spine having some tape for extra security, but an excellent very early issue that will make a nice addition to your collection.