---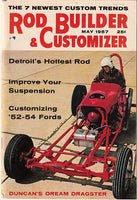 May 1957 Rod Builder & Customizer
EX+ Condition - Magazine is complete with very minor cover wear and creasing, although it appears to have small staple holes near the top. The spine shows just the slightest bit of use wear and the pages are nice and white especially for a magazine of this vintage.
This issue includes: Chrysler's New 300C; Vic Delrossi's 1952 Chevy Hardtop; How to Choose the right Spark Plug; Coverage of the Westchester Auto Show; Improve your Suspension; Organizing a Rod Club; Tips from the Strips; Hydraulic brakes for better stopping power; Dopey Duncan's Dream Dragster; Seven newest custom trends; Restyling the 1952 – 1954 Ford; Grace Curry's 1941 Ford; Plus more great editorial, features, and vintage ads.
This issue of Rod Builder & Customizer will make a very nice addition to your collection.