---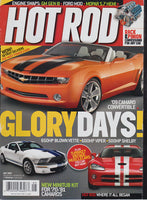 May 2007 Hot Rod Magazine
EX Condition – Magazine is complete with very minor cover wear and creasing. The spine shows only subtle use wear.
This Issue includes: Bench Racing; Where it all began – Dick Landy Tribute; Roddin' at Random – Gearhead Life; The New Muscle Car Wars is Back On; Turn-Key Vintage Muscle Cars; Blue Moon Motorsports teams up with Mr. Norm for new vintage Dodge Darts; John Devine's, So-Cal Speed Shop-built 1966 Chevelle; Ray Dunham's 1936 Ford Three-Window Coupe; Matt Markstaller's Hemi-powered 1932 Ford Roadster; Calaveras High School in San Andreas, California, Camaro Build; Modern V-8 Engine Swaps made easy; F-Bomb Suspension upgrade and mini-tubs; Rack-and-Pinion Conversions; plus much more great Hot Rod magazine editorial.
An excellent Hot Rod issue from the magazine that started it all.