---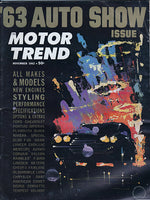 November 1962 Motor Trend Magazine
VG+ Condition – Magazine is complete with some minor cover wear and creasing. The spine shows some average use wear and the pages are slightly yellowed mostly around the edges due to age.
This Issue includes: An Album of Nameplates; Men Behind the Nameplates; The latest in steel technology; Motor Trend's 1963 Car Specifications – American, Checker, Dart, Chrysler, Dodge, Valiant, Plymouth, Imperial, Galaxie, Falcon, Fairlane, Meteor, Monterey, Comet, Thunderbird, Continental, Corvette, Chevy II, Corvair, Corvette, Buick, Special, Riviera, Tempest, Pontiac, Oldsmobile, Olds F-85, and Cadillac, Lark, Hawk, and Avanti; New technology in aluminum; A look at Fiberglass tech; plus more great Motor Trend magazine editorial.
An excellent issue that will make a nice addition to your collection even in challenging condition.