---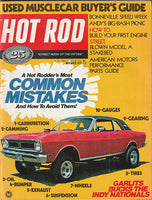 November 1972 Hot Rod Magazine
Magazines are complete and range from F to NM condition.
Grading is as follows:
NM – little to no cover wear or creasing with spine showing little to no use wear
EX+ - very subtle cover wear and very minor creasing with spine showing only subtle use wear.
EX -very subtle cover wear and creasing with spine showing very subtle wear
VG – some subtle cover wear and creasing with spine showing some minor use wear
Good – some noticeable cover wear and creasing with spine showing some average use wear.
Fair – noticeable cover wear and obvious creasing with spine showing above average use wear and possibly loose to the staples.
All magazines we sell include magazine pages in excellent, readable condition with most older magazines showing some level of yellowing mostly around the edges due to age.
This issue includes: Street Rods of the Fifties; Bonneville Nationals 1972; How to Buy A Used Muscle car; California 500 Indy Car racing; Yamahauler Van; Motta & Williamson back-motored funny car feature; Street Machine Nationals from Memphis; Kenny Goodell funny car fire Photo; American Motors Parts Guide; Indy NHRA Nationals; Tulsa National Challenge; Barnes & Berona Gasser photo; Steve Hight's 1929 Ford stakebed feature; A hot rodder's most common mistakes and how to avoid them; Andy Brizio's 6th-Annual Picnic; Reschlein & Trisch AA/Altered feature; Hot to build your first engine - conclusion; plus more great vintage photos, features, and editorial.
166 Pages of Hot Rod magazine at its best.