---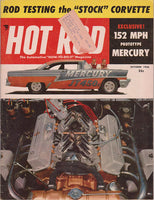 October 1956 Hot Rod Magazine  
EX Condition - Magazine is complete with some very minor cover wear and creasing. The spine shows only subtle use wear and the pages are lightly yellowed around the edges due to age.
This issue includes: Rod testing a stock Corvette; Sioux City Regional drag coverage; Carl Borgh's GMC-powered Bonneville Roadster feature; Lowering the pickup; Western Regional Drags from Salt Lake City; Lincoln-powered 1956 Mercury hardtop NASCAR racer; Charles McFarland's Cadillac-powered 1932 Coupe feature; Northwest regional drags from Aurora, Oregon; Traction Master Kit installation; Roy Williams' Roadster feature; plus more great tech, features and editorial.
Another fantastic issue in great condition that will take you back to the Golden Era of Hot Rodding.