---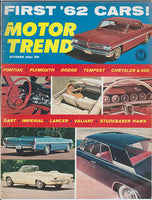 October 1961 Motor Trend Magazine
Good Condition – Magazine is complete with some minor cover wear and creasing. The spine shows some use wear and the pages are slightly yellowed mostly around the edges due to age.
This Issue includes: What's new for 1962 Pontiacs; Inside the 1962 Chrysler; First look at the 1962 Dodge; Lancer – Innovations for 1962; Preview of the Studebaker Hawk; A look at the new 1962 Pontiac Tempest; Valiant for 1962; Profile of the 1962 Plymouth; Volvo 122-S Road Test; Mercedes Benz 190 Road Test; Know your drivetrain configurations; Greenbrier vs. Econoline; Renault 4-L Driver Report; MGA 1600 Mark II Road Test; plus more great Motor Trend magazine editorial.
An excellent issue that will make a nice addition to your collection.