---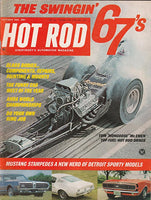 October 1966 Hot Rod Magazine
Magazines are complete and range from F to NM condition.
Grading is as follows:
NM – little to no cover wear or creasing with spine showing little to no use wear
EX+ - very subtle cover wear and very minor creasing with spine showing only subtle use wear.
EX -very subtle cover wear and creasing with spine showing very subtle wear
VG – some subtle cover wear and creasing with spine showing some minor use wear
Good – some noticeable cover wear and creasing with spine showing some average use wear.
Fair – noticeable cover wear and obvious creasing with spine showing above average use wear and possibly loos to the staples.
All magazines we sell include magazine pages in excellent, readable condition with most older magazines showing some level of yellowing mostly around the edges due to age.
This issue includes: New Swingin' Cars from '67 – Camaro, Mustang, Corvette, Cougar, Bonneville, GTO, Comet, Dodge RT, Buick and more; Fiberglass Magic – Fiberglass Funny Cars, Gassers and Street Rods; Kohler Bros. King Kong A/Gasser feature; Brutus GTO Funny Car with driver Jim Liberman; A look into piston rings; Paxton blower kit for the Mustang; Tom "Mongoose" McEwen pictorial profile; Super Stock Nationals featuring Funny Cars Only from New York National Raceway; AHRA Drag Racing; Bob Hegge's 1932 Ford five-window coupe feature; Sweet 16 twin-engine dragster feature; Oakland Roadster show winner; Carb tuning for more Ford power;  Karting – Enduro Nationals by Tom Medley; Bill Hielscher's 1965 Vette feature; plus more great technical articles, features, and editorial.
This is a fantastic issue full of great vintage Hot Rod stuff.