---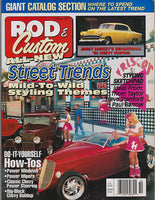 October 1997 Rod & Custom Magazine
EX+ NM Condition – Magazine is complete with very minor cover-wear and creasing. The spine shows very subtle use-wear and the magazine pages are just excellent as well.
This issue includes: Joe Gosnell's 1934 Ford roadster; Mickey Young's 1929 Chevy Sedan; Walt Cartwright's 1932 Five-Window coupe; Jim Duirkey's 1954 Chevy Coupe; Sketchpad featuring Steve Stanford, Thom Taylor, and Paul Barrow; Jim Foley's 19471 Chevy; Frank McAteer's 1932 Ford Vickey; Terry DeWeese's 1933 Ford Roadster; Clyde Barrow's 1934 Ford Coupe; Dick Bauer's 1940 Ford Woodie; Installing power windows in a 1949-1951 Merc; The Humorous art of George Trosley; Installing Mullins Power Steering in a Classic Chevy; Customs from Paso Robles; NSRA Street Rod Nats South; Untimate T-Brid – Final Assembly; Killer Rat – Part One; plus more excellent tech, features, and editorial.
A great issue that will make a nice addition to your R&C magazine collection.