---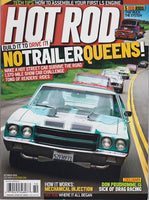 October 2010 Hot Rod Magazine
NM Condition – Magazine is complete with minor cover wear and creasing.
This Issue includes: Roddin' at Random; From the Archives – Where it all began – Stuart Hilborn; Tom Dunrud's 1952 Dodge Pickup; Hakan Johansson's 1975 Supercharged LS Volvo; Almir Rocha's 1928 Chrysler Model 72; Jim Riley's V-12-powered 1932 Ford Roadster; Steve Bashford's LS7-powered 1978 Pacer; 2010 Hot Rod Power Tour; Power Tour Challenge; Long Haul Gang of 2010; Don Prudhomme Profile; Where are they Now – Past Cover and Feature Cars; Getting the Pavement Pounder 1957 Chevy back on the road for Power Tour; LS Engine-Builder's Guide for classic Small-Block Lovers; What you need to know about mechanical fuel injection; Getting the correct rocker arm geometry; plus more great Hot Rod magazine editorial.
A great Hot Rod issue from the magazine that started it all.