---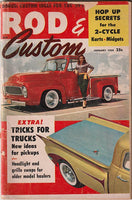 January 1959 Rod & Custom magazine
Magazines are complete and range from F to NM condition.
Grading is as follows:
NM – little to no cover wear or creasing with spine showing little to no use wear
EX+ - very subtle cover wear and very minor creasing with spine showing only subtle use wear.
EX -very subtle cover wear and creasing with spine showing very subtle wear
VG – some subtle cover wear and creasing with spine showing some minor use wear
Good – some noticeable cover wear and creasing with spine showing some average use wear.
Fair – noticeable cover wear and obvious creasing with spine showing above average use wear and possibly loose to the staples.
All magazines we sell include magazine pages in excellent, readable condition with most older magazines showing some level of yellowing mostly around the edges due to age.
This issue includes: Customizing tricks for trucks; Detroit '59 - Customizing the motor city's latest cars; Bill Block's 1936 Ford coupe feature; Ralph Ehorn's 1954 Ford pickup feature; Chuck Bell's 1947 Plymouth feature; Jack B. Quick's 1954 Cadillac feature; Terry Patient's B/C 1932 Ford coupe feature; Gardner Despain's 1928 Model A pickup feature; James Thesenvitz' 1929 roadster pickup; Money Wray's Olds-powered 1927 T roadster; Hopping up the heart of your kart; Winfield Custom Shop-built 1951 Merc feature; The basics of customizing - part III; A Farewell to Rod & Custom's Dream Truck; The Whys of Suspension; Arin Cee carton; plus more great features, vintage photos, and editorial.
A great early Rod & Custom full of customizing tips and nice features.