---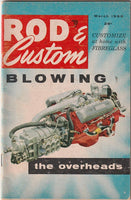 March 1956 Rod & Custom
Magazines are complete and range from F to NM condition.
Grading is as follows:
NM – little to no cover wear or creasing with spine showing little to no use wear
EX+ - very subtle cover wear and very minor creasing with spine showing only subtle use wear.
EX -very subtle cover wear and creasing with spine showing very subtle wear
VG – some subtle cover wear and creasing with spine showing some minor use wear
Good – some noticeable cover wear and creasing with spine showing some average use wear.
Fair – noticeable cover wear and obvious creasing with spine showing above average use wear and possibly loose to the staples.
All magazines we sell include magazine pages in excellent, readable condition with most older magazines showing some level of yellowing mostly around the edges due to age.
This issue includes: All about Superchargers; Drag Science - Gearing and Shifting points; Melvin D'loss' custom '50 Ford convertible feature; Bill Smith's '52 Chevy club coupe pickup conversion; Bob Tormey's '41 Merc custom; Artist Henning restyles the Belfriano Automotica Terrifica; Ernie Hashim's supercharged '32 Ford feature; Let George Do it! - Part I; Conrad Hailparn's '48 Nash convertible; Jack Simon's '55 Mercury four-door pickup conversion; Restyling with resin - Hooded Headlights; R&C's Rolling Laboratory Progress Report; ArinCee cartoon; plus more great features, tech articles, and editorial.
 Another Rod & Custom Pocket Page from the glory days