---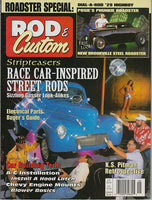 September 1997 Rod & Custom Magazine
EX+ NM Condition – Magazine is complete with very minor cover-wear and creasing. The spine shows very subtle use-wear and the magazine pages are just excellent as well.
On the cover is Chip Foose, Boyd Coddington, Gray Baskerville, and George Barris.
This issue includes: Clyde Moyer's 1947 Buick Custom; 1937 4-pack – Ford Coupe, Ford Club Cabriolet, Ford Sport Cabriolet, and Ford Delivery; Ray Seider's 1940 Willys; Race-inspired street cars; Bill Cresant's 1937 Chevy; Victor Young's 1940 Willys Coupe; Jack Morris' 1938 Chevy Coupe; Ed Hart's 1940 Willys pickup; K.S Pittman History; Pose's Phunke 1932 Ford; Installing a custom hood latch on a 1939 Ford; Bolting on a BDS 8-71 Supercharger on a 426ci Hemi; Installing a Southern Rods HVAC system; Clyde Moyer's 1947 Buick Custom; Goodguys 8th Spring SoCal Nationals; Ultimate T-Bird – Prepping the body for paint;  Dial-A-Rod – Part II; Modifying an early Chrysler Hemi timing chain cover; plus more excellent tech, features, and editorial.
A great issue that will make a nice addition to your R&C magazine collection.