---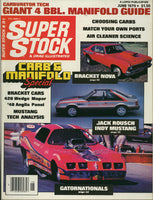 June 1979 Super Stock & Drag Illustrated
Magazines are complete and range from F to NM condition.
Grading is as follows:
NM – little to no cover wear or creasing with spine showing little to no use wear
EX+ - very subtle cover wear and very minor creasing with spine showing only subtle use wear.
EX -very subtle cover wear and creasing with spine showing very subtle wear
VG – some subtle cover wear and creasing with spine showing some minor use wear
Good – some noticeable cover wear and creasing with spine showing some average use wear.
Fair – noticeable cover wear and obvious creasing with spine showing above average use wear and possibly loose to the staples.
All magazines we sell include magazine pages in excellent, readable condition with most older magazines showing some level of yellowing mostly around the edges due to age.
This issue includes: Carb and Manifold Special - High-rise manifolds, Matching your manifold to your heads, Choosing the right carburetor; Air cleaners; Racers guide to four-barrel carburetor manifolds; Phil Cameron's 1948 Anglia panel feature; Dennis Hutzler's 1964 Plymouth Belvedere feature; Coverage of the 10th Annual NHRA Gatornationals; Karl Petersen's 9-second Nova feature; Testing the Indy 500 Roush-built Mustang; plus more great editorial, features, and vintage photos.
A fantastic issue of Super Stock and Drag Illustrated that will make a nice addition to your Super Stock magazine collection.